Your one stop shop for cloth nappies & accessories
Welcome to Kingdom of Fluff!
Inside you will find a vast selection of re-usable cloth nappies and accessories, from simple low-cost nappies to luxury embroidered nappies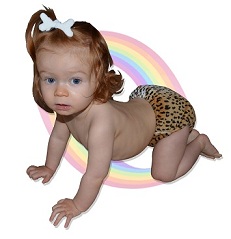 New to cloth nappies?
Not sure where to start?
Don't worry.
Our goal is to provide a re-usable nappy system to suit all tastes and budgets.
Why use cloth nappies?
Cloth nappies are:
kinder to baby
kinder to the environment
kinder to your pocket
For further information, have a look at our Cloth Nappy Advice page
SHIPPING INFORMATION:
Please note we will be operating a reduced service from 22/08/16 to 04/09/16. Our dispatch times may be slightly longer than normal, and we might take 1-2 days to dispatch orders and respond to enquiries. Shipping information will be displayed on the checkout page for info, but if you need to know when your order is likely to be dispatched, please email us and we will get back to you as soon as we can :) Apologies for any inconvenience!
Special Offers!
40% off Frugi Clothing (SS16 range)*NEW* 25% off Minky and Pul (block colour) Wonderoos *Up to 20% off Close Parent Swim Nappies
Any 3 Bambino Miosolo for £38 (saving of 20%)(No codes needed, prices are already reduced on the website!) Plus, FREE DELIVERY* until 15th September, when your order includes at least one item from our Frugi AW16 range :) Simply enter discount code FrugiAW16 at checkout
* Free UK Standard Delivery
You can find all these fab deals, and more, in our Special Offers section
Just Arrived:
We have recently restocked our gNappies range - most colours and print gPants are now back in stock.
Coming Soon:
We are expecting some more Ecopipo AIO, pocket nappies and wraps soon, as well as the new Ecopipo training pants.
Some amazing new limited edition Blueberry prints are on their way to us . . . watch this space!
We also have more Bambino Mio and Bambooty stock on the way, as well as some cute and funky newborn budget wraps.
Make sure you follow our Facebook page for up-to-date information and offers!
For any other questions or advice, feel free to Contact Us and we will be more than happy to help. We can also offer free nappy demo's locally, so just ask!
Follow us on Facebook: http://www.facebook.com/?ref=home#!/pages/Kingdom-of-Fluff/108704672483410
And Twitter: @Kingdomfluff